Services
At H&H, our mission is to provide quality services at competitive prices. We can and have performed a multitude of services for our customers, from basic rigging to highly complex jobs involving craning systems through roofs and windows of multi-floor buildings. H&H has the resources to safely and effectively move highly delicate equipment with minimal impact to your customer's facility and workflow. Our services include, but are not limited to: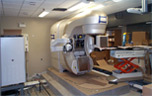 Installation
De-Installation
Relocation
Upgrades
In addition to our installation services, we also offer logistical
support that covers all of your installation needs: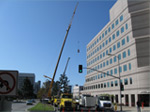 Rigging
Room Moves
Crating
Storage/Warehousing
Transportation
Disposal
H&H also performs site surveys and other site-readiness and project management services to ensure smooth, time-efficient installations. Please feel free to call us for more information about our services.